Russia Threatens To Ditch the Dollar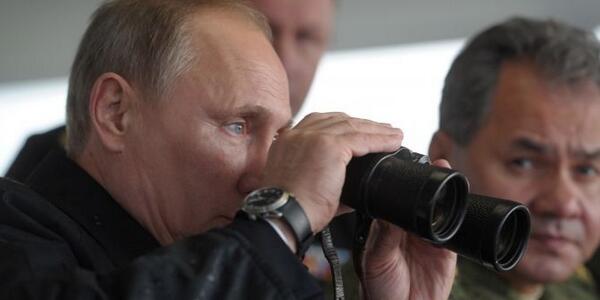 Putin with Ukraine and economic affairs adviser Sergei Glazyev
Russia Threatens to Ditch Dollar,
and Default On US Bank Loans
by Fintan Dunne - 4 March 2014, 5pmEST
A Russian economic security adviser close to President Putin has warned that Russia would respond to US sanctions over Ukraine by switching away from the dollar to other currencies and creating its own payment systems for trade with friendly nations.
Putin's adviser,
Sergei Glazyev
said Tuesday that US sanctions would also inevitably force a default on loan repayments to US banks.
"If sanctions are applied against state structures, we will be forced to recognize the impossibility of repayment of the loans that the US banks gave to the Russian structures. Indeed, sanctions are a double-edged weapon, and if the US chooses to freeze our assets, then our equities and liabilities in dollars will also be frozen. This means that our banks and businesses will not return the loans to American partners," he said.
The Kremlin immediately distanced itself from Mr. Glazyev's comments.
"Mr. Glazyev has not been authorized to talk on behalf of the Russian government and especially to voice such unacceptable measures," said a Kremlin source
quoted
by Voice of Russia. "Glazyev was just expressing his views as an academic, and not as a presidential adviser."
However, Sergei Glazyev was, after all,
appointed
personally by Putin in mid-2012 to try draw Ukraine into Russia's project for a Customs Union of Belarus, Kazakhstan, and Russia.
In September, 2013, he
cautioned
that were Ukraine to sign a trade deal with the EU, it would "cut the roots of our economic cooperation."
One month ago he
said
that U.S. "interference" breached the 1994 treaty under which Washington and Moscow jointly guaranteed Ukraine's security and sovereignty.
Glazyev lost a 2004 presidential bid against Putin and quit politics in 2007, saying Putin's Kremlin had squeezed out political opposition and debate. It was a surprise when Putin brought him in from the cold in 2012.
With such a political background, it's clear that Glazyev is being used to fly some red warning kites, with a thinly plausible veneer of deniability.
Today, he was in characteristically bombastic attack mode.
"We hold a decent amount of treasury bonds – more than $200 billion,
he said
. "And if the United States dares to freeze accounts of Russian businesses and citizens, we can no longer view America as a reliable partner [and] we will encourage everybody to dump US Treasury bonds, get rid of dollars as an unreliable currency and leave the US market."
The remarks came as Gazprom today
decided
to discontinue Ukraine's gas price discount from April 2014. That decision arose out of today's meeting between Russian Prime Minister Dmitry Medvedev and Gazprom Management Committee Chairman Alexey Miller.
However, Gazprom was keen to stress that it is not in the business of interrupting supplies to the EU for political reasons.
Right now, the US Neocons who pull levers in Washington and Kiev are the intended target for the ratcheting up of Russia's anti-dollar rhetoric.
Ditching the dollar would not be easy. But a gold-based trade settlement system and reciprocal currency swaps could easily be rolled out with key Russian partners --including China and much of South America and Africa.
That new role for gold has been my subject in
this discussion
topic thread.
The follow-on implications for the financial system would be a market-based floating currency system and a new freedom to print fiat currency in order to maintain a functioning jobs market and avoid a deflationary spiral.
Would the EU join the "rest," and blame the US Neocons for the chaos?
In a heartbeat.
But could it come to that?
Actually, the Russian signals are designed to help isolate the Neocons who are currently using Ukraine to sew chaos between the EU and Russia for their own geopolitical and financial benefit. Russia is also warning Wall St. to take care they get on the right side of this issue.
All the above ties to the Snowden affair - a state-level intelligence
operation aimed at isolating the US in European and global opinion, slowing the MIC/NSA hijack of spying systems and reinvigorating the
faltering Democratic activist base.

Tonight, the poker game is poised as follows: Neocon John Kerry has raised the "Sanctions" issue and Russia says: "Ok, see your sanctions, and we will raise you a new global economic system."
President Putin's economic security advisor Sergei Glazyev
Photo: Voice of Russia